Apartments in Odessa
Daily and
long-term rent
Completely new apartments in the picturesque district of Odessa city – Arcadia!
All apartments has the area of 65 sq.m., situated on the 16th floor with amazing sea and park "Arcadia" view, consist of fully furnished and equipped hall, kitchen studio, bedroom and bathroom. Luxury repair with modern and well-targeted lighting create an elegant atmosphere assuring comfort even for the most sophisticated guests!
VIEW
There is a great view to the park Arcadia and Moldova hotel, green area around and picturesque view to the Black Sea!
INFRASTRUCTURE
There are "Mozzarella" store offering products from Italy, wonderful restaurant "Tri Tolstyaka" and pastry shop "Strudel" inside the building.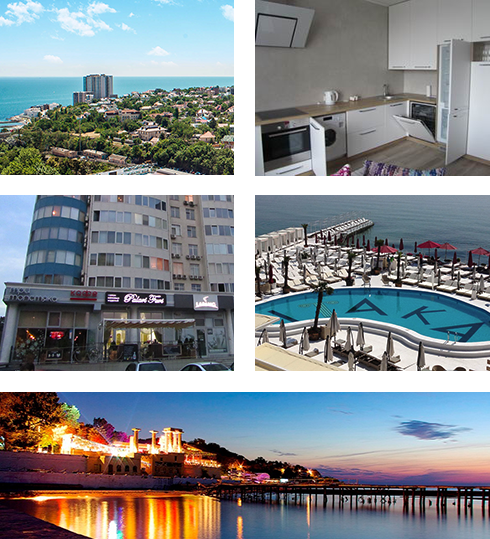 SERVICE–ACCESSORIES
Slippers, bath beauty products, towels, hair dryer, bedclothing, iron, ironing board and all requisites
CONVENIENT LOCATION
4 minutes on foot: park Arcadia, beaches: Ibiza, Itaka, Bono, Portofino, Mantra! Sports club with swimming pool "Sport Life", Shopping Mall "Gagarin Plaza", "Selpo", "Tavria"
Photo gallery
Real photos
of our apartments
Our apartments in the city of Odessa fully conform to the photos!
Equipment
Equipment and furniture
in apartments
Our apartments in Odessa are equipped with new, state-of-the-art appliances and furniture, well-chosen by experts.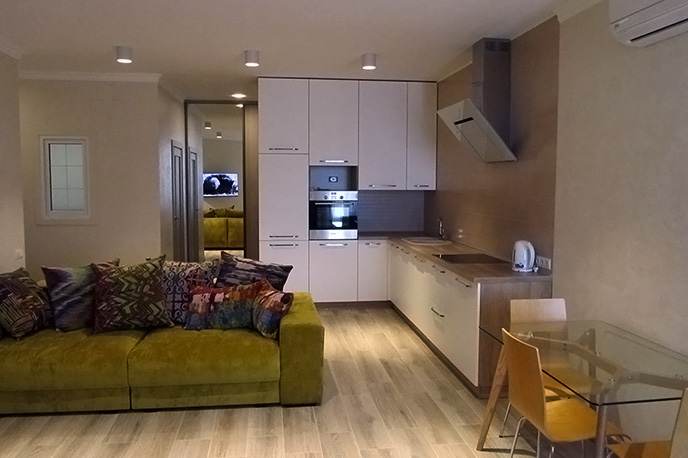 KITCHEN/STUDIO AND BEDROOM
Dwelling area is fully equipped for a comfortable staying.
There is a large convertible sofa with squashy cushions and coffee table next to it in the kitchen/studio. Opposite the sofa is a large LED TV set with a number of TV listings.
There is a double bed with orthopaedic mattress and soft headboard in the bedroom. You can place your things in a spacious sliding mirror wardrobe.
Spot, ceiling soft lighting creates comfort and coziness.
Provided that the apartment is situated on the sixteenth floor, there is a picturesque view from the window, sunsets and dawns are especially romantic!
MODERN, EQUIPPED KITCHEN
The kitchen is equipped with the most modern, new appliances. There is everything you need, from the utensil and electric kettle to the dish washing machine, in particular:
Built-in two-compartment refrigerator
Large dish washing machine
Electric stove
Microwave oven
Programmable oven
Ultramodern quiet cooker hood
Washing machine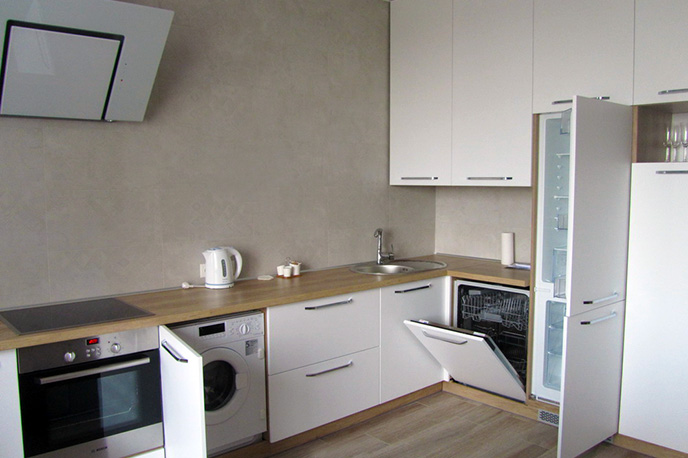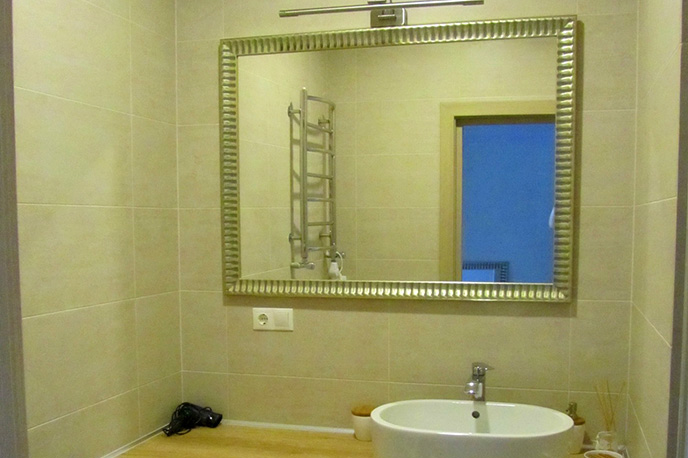 BATHROOM / WC
Repair and equipment in the bathroom are made in a modern and laconic manner. Big mirror with lighting, designer's sanitaryware without sharp angles. Shower room is equipped with quality installations, principal massage shower, as well as additional shower from flexible hose. The bathroom is equipped with:

3 towels for each guest
slippers
hair dryer
bath beauty products
other personal hygiene products
Location
Apartments
location
Our apartments are situated in the most picturesque district of Odessa – Arcadia! There are a lot of green plantings, parks, alleys, intense infrastructure, shopping and sports centers, conference halls, business centers. There are Italian store "Mozzarella" store offering a wide range of products from Italy, wonderful restaurant "Tri Tolstyaka" where you can have a tasty meal and have a god time, and pastry shop "Strudel" inside the building.
5 minutes on foot from our apartments to the picturesque Park Arcadia, or to beach complexes: "Ibiza", "Itaka", "Bono", "Portofino", "Mantra"! Sports club with swimming pool "Sport Life", Shopping Mall "Gagarin Plaza", Supermarket "Selpo", all-day grocery shop "Tavria", swimming pool with sea water – only 3 minutes on foot from the apartments!
Apartments rent prices
Rent apartments
in Odessa, Arcadia
Depending on the season, rent prices for apartments can change, please, specify the price via telephone indicated in contacts
Address
Ukraine, Odessa,
5 Genuezskaya Str.
Phone numbers
Boris: +38 (063) 145-70-70
Marina: +38 (063) 765-69-66